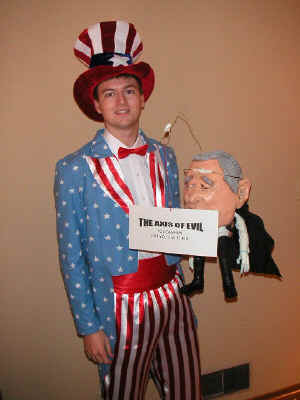 If you think your children only want costumes when they are small, think again. Our son, Thomas, has come up with last minute requests every year. This year (2004) he provided the drawing at the left as a general guideline of what he wanted for Halloween.

What was really special is that he announced on Thursday that the costume was for a Friday night party, but he also wanted to wear it toschool on Friday.

Linda, the mom who does not sleep (until 3:00 AM on costume night), put this together into the wee hours of Halloween Eve, which is officially know as the night that Thomas requests extensive costume support. Linda outdid herself. It was entirely handmade, except for the hat. The character on Thomas's arm is affectionately known as 'Little George,' the big-headed man who became president.

Thomas did wear this, as a senior, to all of his classes.

P.S. On the morning Thomas was wearing this to school he came out of the bathroom a bit akimbo, and commented that 'mom' had not made ready provisions for going to the bathroom; I suggested he keep that critique to himself.